Common Questions/Problems
Why does this only work on Windows and not Mac/Linux?
The simple answer is the anti-cheat is only programmed for Windows at the moment. The long answer is a lot of the system API's for Windows and Mac/Linux are very different. It is not a simple matter to port the anticheat code from Windows to Mac/Linux. Less than 10% of Badlion's population plays on operating systems other than Windows. This being said it is something we are actively researching the possibility of for a later date but we are making no promises as to whether we will ever be able to port the anticheat over or not. We recommend users who have a Mac use Bootcamp to install Windows on their machine. It is a completely free tool provided by Apple to dual boot your computer with both Mac and Windows. You need a valid Windows license key though. More info can be found here.
Why can I not get OBS to recognize Minecraft?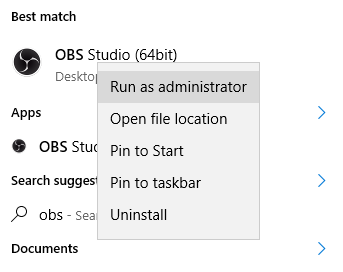 To get OBS to work with the Badlion Client's Minecraft you need to open up OBS in administrator mode. You can right click on OBS to select "Run as Administrator." Then when in OBS the Minecraft game should be attachable to record videos.
I'm trying to install Badlion Client, but my anti-virus (McAfee, NOD32) says it's a trojan or a virus! What's the deal?
Several anti-virus programs will register a false-positive when attempting to install or run Badlion Client. This is caused by some of the security implementations and features that the Badlion Client uses to protect itself. There are absolutely no trojans, viruses, or malware bundled with the Badlion Client and all of your computer files/system are safe while running it.
In order to install Badlion Client on a system that is detecting a false-positive, you will need to temporarily disable your anti-virus completely and install. Normally, simply disabling protection temporarily is sufficient, however if you have a particularly stringent anti-virus software package, you may need to exit the program entirely in order to install Badlion Client. This may involve ending open processes that can be left running by your anti-virus software which may prevent installation. Completely disable your anti-virus software temporarily and the Badlion Client install process will work as expected.
If you are still having issues after installing and trying to run the Badlion Client you might need to add an exception to your anti-virus for the Badlion Client. Every anti-virus has a different way of handling this and you will need to do some quick research online on how to do it for yours.
What is this pop up about protecting my machine?


Windows has a new system starting in Windows 8 where they take a bit of time to trust publishers to make this pop up disappear. Our entire application is signed with digital certificates as they should be, but this pop up will still appear for users for the next few days. You simply need to click "More Info" and "Run Anyways". This issue should disappear as more users install it and Windows starts to "trust" this application.
I am having another issue not described here
Please report any and all bugs about the Badlion Client here: bug reports. Please check if the issue you are reporting has already been reported by other people. Please include log files as well found in your installation directory (C:\Program Files\Badlion Client) such as clientlauncher.log.